Baked Lemon Herb Salmon Recipe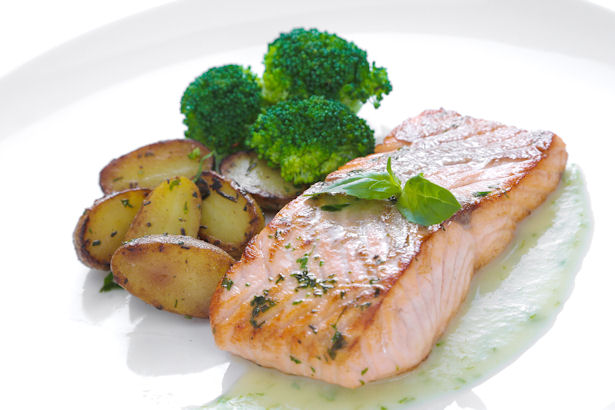 Rich in essential fatty acids (EFAs) like omega-3 and omega-6, salmon is a healthy skin superstar. EFAs  reduce inflammation in the body. According to Nicholas Perricone, a dermatologist and author of The Perricone Prescription "Inflammation triggers the cells to clog the pore, causing acne," and "It also leads to wrinkles down the line." The carotenoid anti-oxidants of astaxanthin found in salmon can greatly reduce the effects of free radical damage which causes aging.
Ingredients
2 cloves garlic, minced
6 tablespoons light olive oil
1 teaspoon dried basil
1 dry sage leaves
1 (tablespoon) dried thyme
1 teaspoon salt
1 teaspoon ground black pepper
1 tablespoon lemon juice
1 tablespoon fresh parsley, chopped
2 (6 ounce) fillets salmon
Directions
Prepare marinade by mixing garlic, light olive oil, basil, sage, thyme, salt, pepper, lemon juice and parsley.
Place salmon fillets in a medium glass baking dish, and cover with the marinade.
Marinate in the refrigerator about 1 hour, turning occasionally. Preheat oven to 375 degrees F (190 degrees C).
Place fillets in aluminum foil, cover with marinade, and seal.
Place sealed salmon in the glass dish, and bake 35 to 45 minutes, until easily flaked with a fork.
Nutritional Information
Serves: 2; Serving Size: 1 piece; Per serving: Calories: 613; Calories from Fat: 467; Total Fat: 51.9 g; Saturated Fat: 8.1 g; Protein: 36.3 g; Total Carbohydrates: 2.9 g; Dietary Fiber: 0.7 g; Cholesterol: 75 mg; Sodium: 1235 mg; Sugars: 0.2 g; Vitamin A – IU: 370; Vitamin C: 9 mg;  Calcium: 89 mg; Iron: 2 mg; Potassium: 665 mg; Thiamin: < 1 mg;  Niacin Equivalents: 17 mg; Vitamin B6: < 1 mg; Magnesium: 53 mg;  Folate: 18 mcg.
---
Want to transform yourself into a healthier, happier person? Discover the life-changing power of nutrition.
Take a moment to imagine yourself being in full control of your health and wellbeing:
You easily reach and maintain (without starving) a healthy weight because your metabolism is functioning at its optimal level.
You no longer feel like being run over by a truck - your supercharged thriving body is in excellent shape and your mood, energy and performance are steady throughout the day.
You know exactly what to change in your diet and lifestyle in order to beat daily stress and anxiety, and sleep more soundly each night.
You have access to insider secrets that help you keep a healthy low carb diet that is rich in vitamins and minerals known to control blood sugar fluctuations.
You daily menu is rich in highly nutritious foods that provide omega 3 fatty acids, fibre and vitamin C - all needed to keep your bad cholesterol and triglycerides in check.
You are in control of your blood pressure thanks to tools that help you track sodium, potassium and other nutrients known to promote better blood circulation
TAKE OUR FREE DIET SURVEY