Crispy Rosemary Chicken and Potatoes Recipe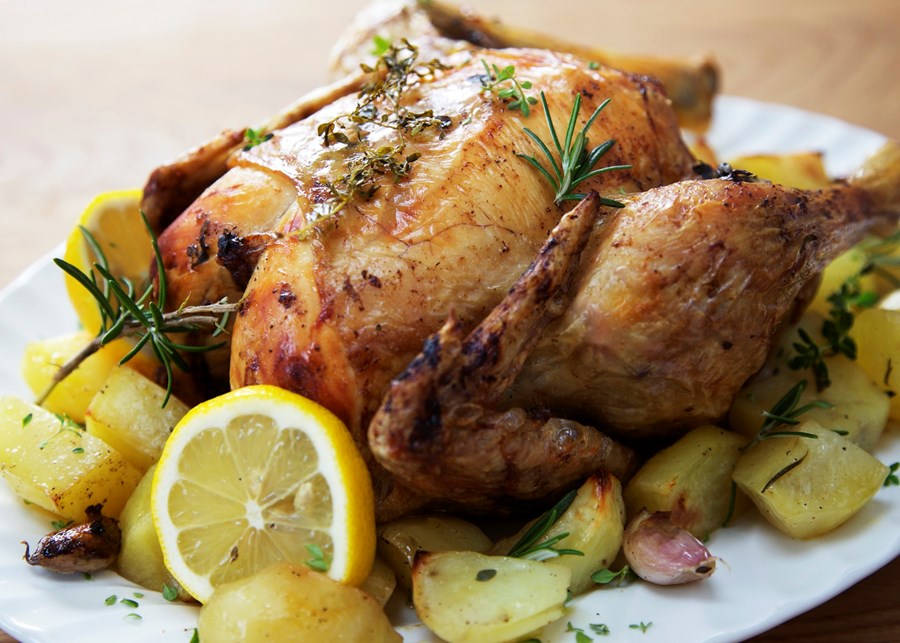 Chicken has nutrients that have a calming effect on your body and are great for reducing stress – tryptophan, Vitamin B6 and B5. Rosemary contains Carnosol and Carnosic acid – two powerful antioxidant and anti-inflammatory compounds that have been linked to reducing inflammation of muscles, blood vessels, and joints.
Ingredients
1 (4 pound) whole chicken
6 potatoes, cut into quarters
1/2 cup extra-virgin olive oil, or as needed
1 tablespoon chopped fresh rosemary
1 1/2 teaspoon chopped fresh oregano
1 1/2 teaspoons garlic powder
salt and pepper to taste
Directions
Preheat the oven to 375 degrees F (190 degrees C).
Place chicken and potatoes into a large bowl. Pour olive oil over them, and stir to coat.
Place the chicken and potato pieces in a large baking dish, or cookie sheet with sides. Sprinkle with rosemary, oregano, garlic powder, salt and pepper.
Bake for 1 hour in the preheated oven, uncovered. Baste during the last 15 minutes for extra crispness.
Nutritional Information
Serves: 6; Serving Size: 1 serving; Per serving: Calories: 490; Calories from Fat: 280; Total Fat: 30.1 g; Saturated Fat: 5.2 g; Protein: 20.9 g; Total Carbohydrates: 26.6 g; Dietary Fiber: 3.4 g; Cholesterol: 72 mg; Sodium: 67 mg; Sugars: 1.2 g; Vitamin A – IU: 169; Vitamin C: 13 mg;  Calcium: 27 mg; Iron: 2 mg; Potassium: 961 mg; Thiamin: < 1 mg;  Niacin Equivalents: 11 mg; Vitamin B6: 0.5 mg (21% DV); Magnesium: 53 mg;  Folate: 32 mcg
---