Moules (Mussels) Marinière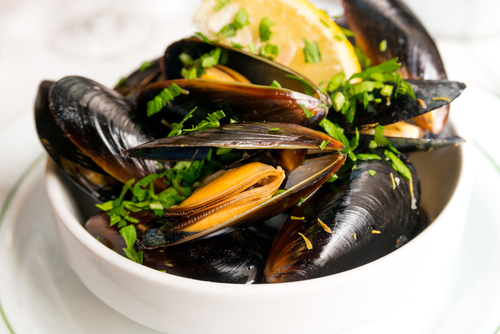 This popular french recipe features an all-time "powerhouse" of nutrition. Mussels are an excellent source of quality protein, vitamin B12 (known to prevent Alzheimer's disease), iron (plays critical role within cells assisting in oxygen utilization), zinc (keeps brain function strong and plays a leading role in weight loss) & selenium (a powerful booster of heart health).
Ingredients
60 fresh live mussels, cleaned (scrubbed and de-bearded)
2 tablespoons extra virgin olive oil
5 cloves garlic, minced
1 cup white wine
2 tablespoons margarine or butter
4 onions, chopped
1 bunch fresh flatleaf parsley, chopped
2 sprigs thyme
salt and pepper to taste
Directions
Place mussels in a large bowl with cold water to cover. Let them soak for about 20 minutes to remove any dirt or sand and then rinse.
Heat olive oil in a large stockpot over medium-low heat. Add garlic, and saute for one minute. Add the chopped onions and cook until almost tender.
Pour in the white wine, and stir in the parsley, thyme and butter. Bring to a boil, and allow to boil until the liquid has reduced by half, about 15 minutes. Season with salt and pepper to taste.
Add the mussels to the pot, put the lid on and allow the mussels to steam for about 5-6 minutes, lifting the lid from time to time to check – you will know they are cooked when the shells have opened. Discard any mussels that remain closed.
Transfer the mussels and sauce to a large serving bowl, discarding any unopened shells.
Nutritional Information
Serves: 6; Serving Size: 1 serving; Per serving: Calories: 168; Calories from Fat: 82; Total Fat: 8.0 g; Saturated Fat: 0.8 g; Protein: 7.3 g; Total Carbohydrates: 5.3 g; Dietary Fiber: 0.9 g; Cholesterol: 15 mg; Sodium: 143 mg; Sugars: 1.8 g; Vitamin A – IU: 1489; Vitamin C: 23 mg;  Calcium: 47 mg; Iron: 7 mg; Potassium: 366 mg; Thiamin: < 1 mg;  Niacin Equivalents: 4 mg; Vitamin B12: 96 mg (1600% DV); Vitamin B6: 0.4 mg (20% DV); Magnesium: 25 mg;  Folate: 32 mcg; Zinc : 10.5 mg (71% DV); Selenium: 360 mcg (512% DV);
---
Want to transform yourself into a healthier, happier person? Discover the life-changing power of nutrition.
Take a moment to imagine yourself being in full control of your health and wellbeing:
You easily reach and maintain (without starving) a healthy weight because your metabolism is functioning at its optimal level.
You no longer feel like being run over by a truck - your supercharged thriving body is in excellent shape and your mood, energy and performance are steady throughout the day.
You know exactly what to change in your diet and lifestyle in order to beat daily stress and anxiety, and sleep more soundly each night.
You have access to insider secrets that help you keep a healthy low carb diet that is rich in vitamins and minerals known to control blood sugar fluctuations.
You daily menu is rich in highly nutritious foods that provide omega 3 fatty acids, fibre and vitamin C - all needed to keep your bad cholesterol and triglycerides in check.
You are in control of your blood pressure thanks to tools that help you track sodium, potassium and other nutrients known to promote better blood circulation
TAKE OUR FREE DIET SURVEY