Roasted Red Pepper and Tomato Soup Recipe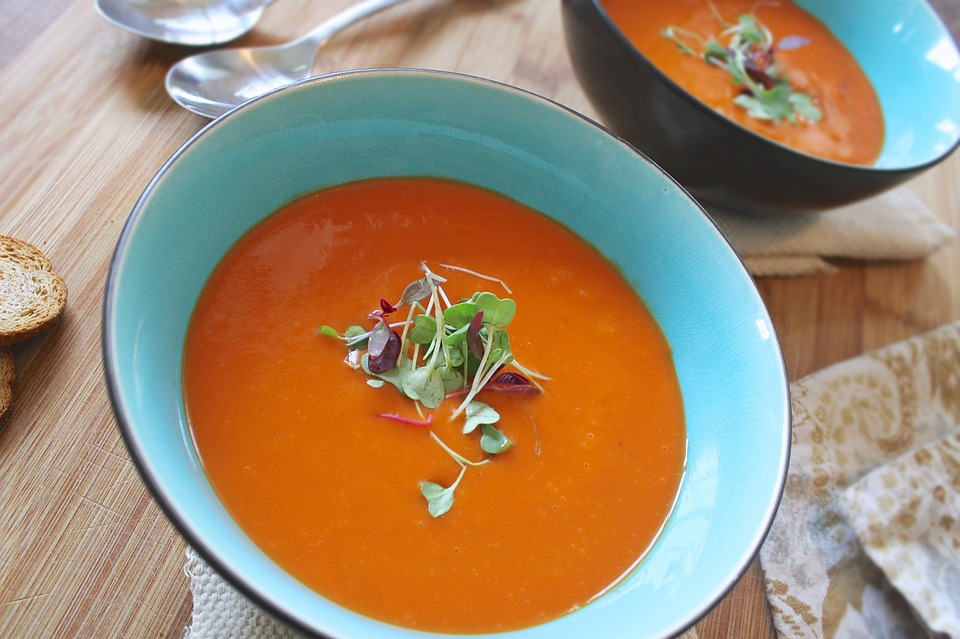 Both red peppers and tomatoes are well known for improving skin health. Red peppers are very rich in vitamin C — which is associated with better skin-aging appearance. Tomatoes are a rich source of lycopene, a skin healthy antioxidant that becomes concentrated and even more  powerful with cooking. A study conducted by the Department of Dermatology at the Mount Sinai School of Medicine, examined topically-applied lycopene's ability to defend against the harmful effects of UVB radiation. It was found that topical application of lycopene suppressed the typical UVB-induced activity of an enzyme called ornithine decarboxylase and it was able to offer significant protection to the cellular DNA.
Ingredients
2 (10 ounce) cans condensed tomato soup
1 1/2 cups water
1 cup tomato juice (such as Mott's®)
1/3 cup minced chives
1/4 teaspoon garlic, minced
1 teaspoon dried rosemary
1 teaspoon dried thyme
1 teaspoon dried oregano
1/2 teaspoon dried basil
1 teaspoon paprika
1/2 cup diced tomatoes
1/2 cup diced roasted red bell pepper
1/4 pinch cayenne pepper (optional)
Directions
Pour the tomato soup and the water in a large sauce pot.
Simmer, stirring occasionally, for 5 minutes.
Add the tomato juice, garlic, cayenne, rosemary, thyme, oregano, chives, basil, and paprika.
Simmer soup for 20 minutes, stirring occasionally.
Add in the diced tomatoes and red peppers.
Simmer until peppers are soft, about 10 minutes.
Nutritional Information
Serves: 4; Serving Size: 1 serving; Per serving: Calories: 126; Calories from Fat: 20; Total Fat: 2.5 g; Saturated Fat: 0.6 g; Protein: 3.7 g; Total Carbohydrates: 24.9 g; Dietary Fiber: 2.3 g; Cholesterol: 0 mg; Sodium: 996 mg; Sugars: 13.7 g; Vitamin A – IU: 2244; Vitamin C: 117 mg;  Calcium: 59 mg; Iron: 4 mg; Potassium: 589 mg; Thiamin: < 1 mg;  Niacin Equivalents: 3 mg; Vitamin B6: < 1 mg; Magnesium: 30 mg;  Folate: 45 mcg.
---
Want to transform yourself into a healthier, happier person? Discover the life-changing power of nutrition.
Take a moment to imagine yourself being in full control of your health and wellbeing:
You easily reach and maintain (without starving) a healthy weight because your metabolism is functioning at its optimal level.
You no longer feel like being run over by a truck - your supercharged thriving body is in excellent shape and your mood, energy and performance are steady throughout the day.
You know exactly what to change in your diet and lifestyle in order to beat daily stress and anxiety, and sleep more soundly each night.
You have access to insider secrets that help you keep a healthy low carb diet that is rich in vitamins and minerals known to control blood sugar fluctuations.
You daily menu is rich in highly nutritious foods that provide omega 3 fatty acids, fibre and vitamin C - all needed to keep your bad cholesterol and triglycerides in check.
You are in control of your blood pressure thanks to tools that help you track sodium, potassium and other nutrients known to promote better blood circulation
TAKE OUR FREE DIET SURVEY